The Scavenger universe
- A sci-fi concept world
Introduction:
So I woke up and things hade gone all to hell. I'm mean all kinds of hell. Hand basket and all. Some sadistic bastard with masonry skills buried my hydrostasis chamber behind a brick wall. It all sounds like an Edgar Allan Poe novel. But im living it. How fucked up is that?
We were ported here as hired illegal labor. To build a long distance signal communication array. Similar to any of the hundreds that connect our proud new colonies in the black expance. A simple and straightforward gig. With one catch: a 10 year building contract. It takes time to build something that is supposed to send your daily dose of streaming multimedia trough galaxies. years of work just to get porn for the new hicks in this part of the pitch black ass end of the universe. We sleep in hydrostasis between shifts, so we dont really age. But the folks back home do.
For the most part, we where on our little piece of paradise. A real slice of cheesecake served on a plate you just instinctively know has ben handled by someone who likes to dig around in his crotch. It's a good looking little rock, no doubt. Pre terra formed like everything else we colonized. Converted like an computer file from one format to another. With some bits lost along the way.
Setting up a signal station is a well paid job. It really, really is. A man can live on one gig for a long, long time. The works suitable for someone like me, with a broken life and little to call morality, or hell, honor. This place, this dirt ball did feel a little funny under my feet from the first moment i stepped off the landing tarmac. I'm just supposed to keep things running and not to touch anything valuable. I'm the best paid custodian around.
The crew is all gone now. Some are dead, with their bony clinched arms wrapped around their bodies. Silent in the corners. Seems to be the same all over the grid. All over the universe. From what I can gather from sporadic news clips and anything else i can catch trickles down to the monitor from the barely working signal arrays.
 
Synopsis:
Humans colonized far and wide. Terra forming the barren worlds in to their own image. Like children building sand castles, completely unaware of the consequences. Using new toys. We were alone in the stars. No particularly intelligent life around.
The great plague came and killed of 9 out of ten of all living things. Borders where closed and paranoia run amok. Containment efforts where futile.
The ones that remain have to live with physical scars, amputated legs and arms, broken spirits and a staggering death toll.
With no central government, the wide spread humankind split in to camps driven by self interest and fear. Most of the technological knowledge was lost. Large spacecraft travel automated trough the portals, that where our crowning achievement, largely unaware of the plight of humans. Like giant mechanical whales. Siphoning the sun for food.
There is technology, but no practical way of recreating it. Large ships and factories where operated by artificial intelligence that unattended withered or whent insane. Some have opted to be connected as human operators to get large machinery to work again. Replacing the AI with themselves. A dangerous endeavor for the mind and body. The connections scar for life.
 
Production bible
Complete with charachter backgrounds and bios.
Script
In treatment
| | | |
| --- | --- | --- |
| | | |
| | Rendering of Freya. An old automated recycling ship that is at the core of the character driven storyline. | |
| | | |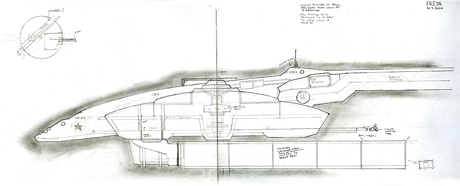 | | | |
| --- | --- | --- |
| | | |
| | Mood renderings and pre production cover shots | |
| | | |